Qubrid is an advanced Quantum Computing and Artificial Intelligence (AI) company with a mission to solve real world complex problems in multiple industries. Our leading cutting-edge cloud platform harnesses the power of hybrid quantum-classical computing to efficiently develop and run next generation Quantum algorithms on Quantum Processing Units (QPU), CPU and GPU computing infrastructure. Our innovative solution enables users to leverage the computational advantages of quantum computing alongside classical computing, providing unparalleled speed and accuracy to solve complex optimization problems, perform simulations, and conduct data analysis. Qubrid team is comprised of Quantum developers, researchers and partner teams all focused on enhancing this unique platform for the advancement of scientific applications. We are performing research in multiple areas related to Quantum Computing and AI and are developing algorithms and applications that can run on our platform as well as other leading Quantum platforms.
Leadership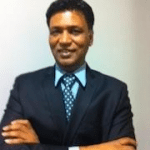 Pranay Prakash
Chief Executive Officer & Founder
Pranay Prakash is the CEO and Founder of Qubrid. Previously, Pranay was the Vice president and General Manager of Honeywell Connected Buildings with focus on Machine to Machine (M2M) and Internet of Things (IoT) software and hardware products. He was also responsible for heading up Tridium/Vykon Niagara 4/JACE 8000 and other Smart Buildings and IoT product lines. Pranay joined Honeywell from Dell where most recently he was the Senior Director of Product Management for Data Center and Virtualization Solutions, responsible for Dell's Converged Infrastructure and Virtual Integrated System (VIS) Private and Hybrid Cloud product portfolio. An experienced marketing leader, Prakash has held executive and senior management positions within the high tech industry in Silicon Valley and Northern Virginia, including NEC Corporation of America, NCS Technologies Inc, Supermicro and Berkeley Software Design Inc with primary focus on Open Source FreeBSD and Linux Operating Systems, Servers, OEM appliances and data center technologies. Pranay is extremely passionate about cloud and is focused heavily on making Internet of Things (IoT) a reality. He believes cloud has become a lot bigger and moved beyond traditional IT devices. He has also been a Cisco Champion for IoT for several years. An innovation thought leader, Pranay is also a keynote speaker and panelist on multitude of technology and futuristic topics. Follow Pranay on social media.

Research & Development Team
Qubrid has staffed an accomplished team of Quantum Computing and AI researchers. We're hiring – please visit the careers page to learn more and apply.